Our customer's engineers from overseas factories visited to Chiba head factory
2014 January
Our customer's engineers from Southeast Asia, Europe and South America visited to our Chiba head factory for the inspection of factory.
On that day, there were several machineries in production process like stainless steel, Ti, Ni-alloy, clad steel, Cu and etc. Therefore, we believed it was a very good opportunity for them to understand our production potentials.
This picture shows the tensile test demonstration of confirming the reliability of welded seam.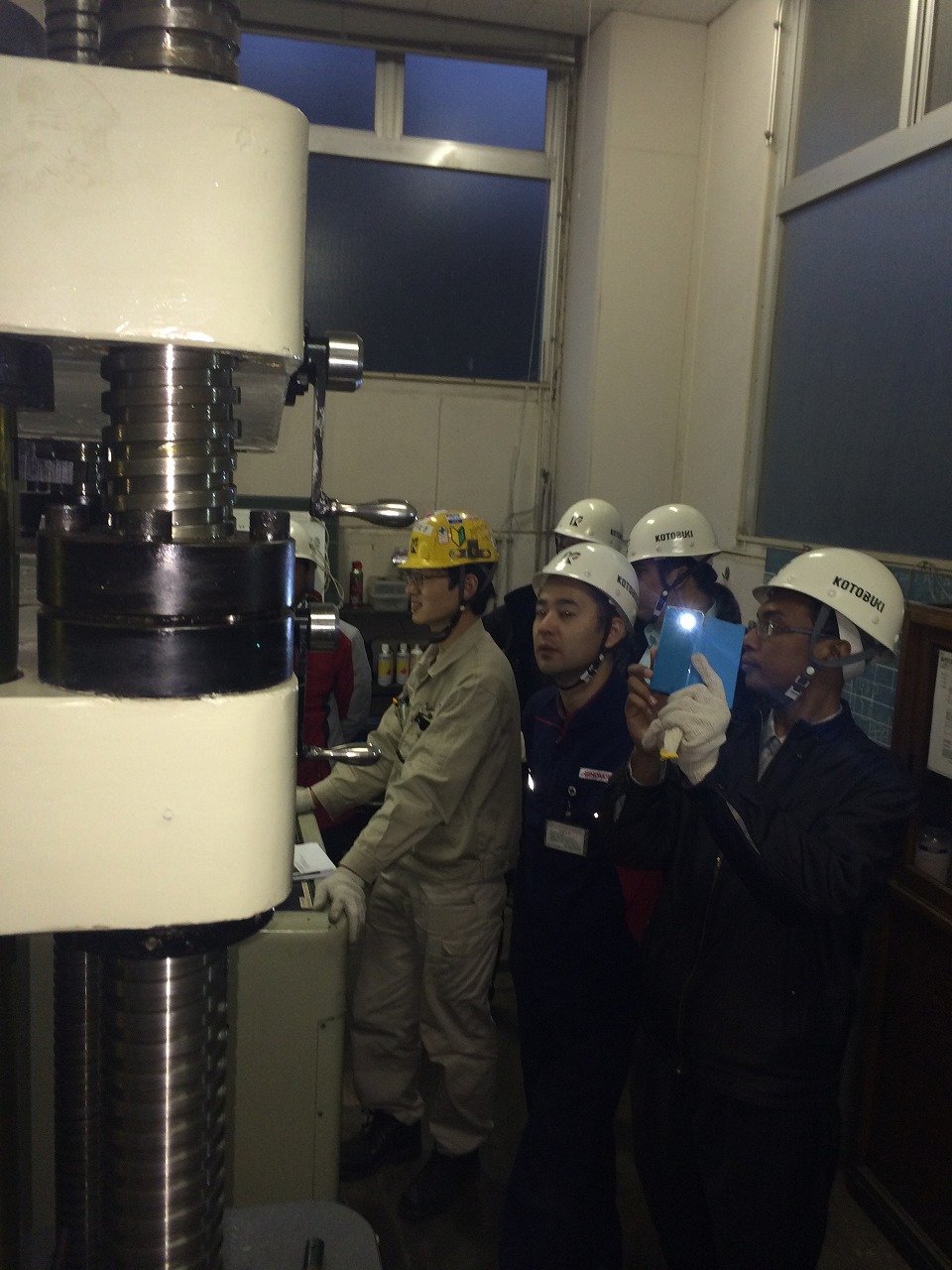 Company outing for Haimen and Shanghai
2014 January
Just before Chinese New Year, we went for the company outing to Haimen and Shanghai in China.
Visited our old factory and brand new Haimen factory (near completion) to observe the activities in China.
At the center of Shanghai, most of the participants had been more interested in the Beijing road (next to Nanjing Road) than Nanjing Road.
That because Beijing Road is like a treasure chest for engineers.
By this visiting we could promote mutual understanding between domestic and overseas factories.
Go for Ayutthaya Thailand next year!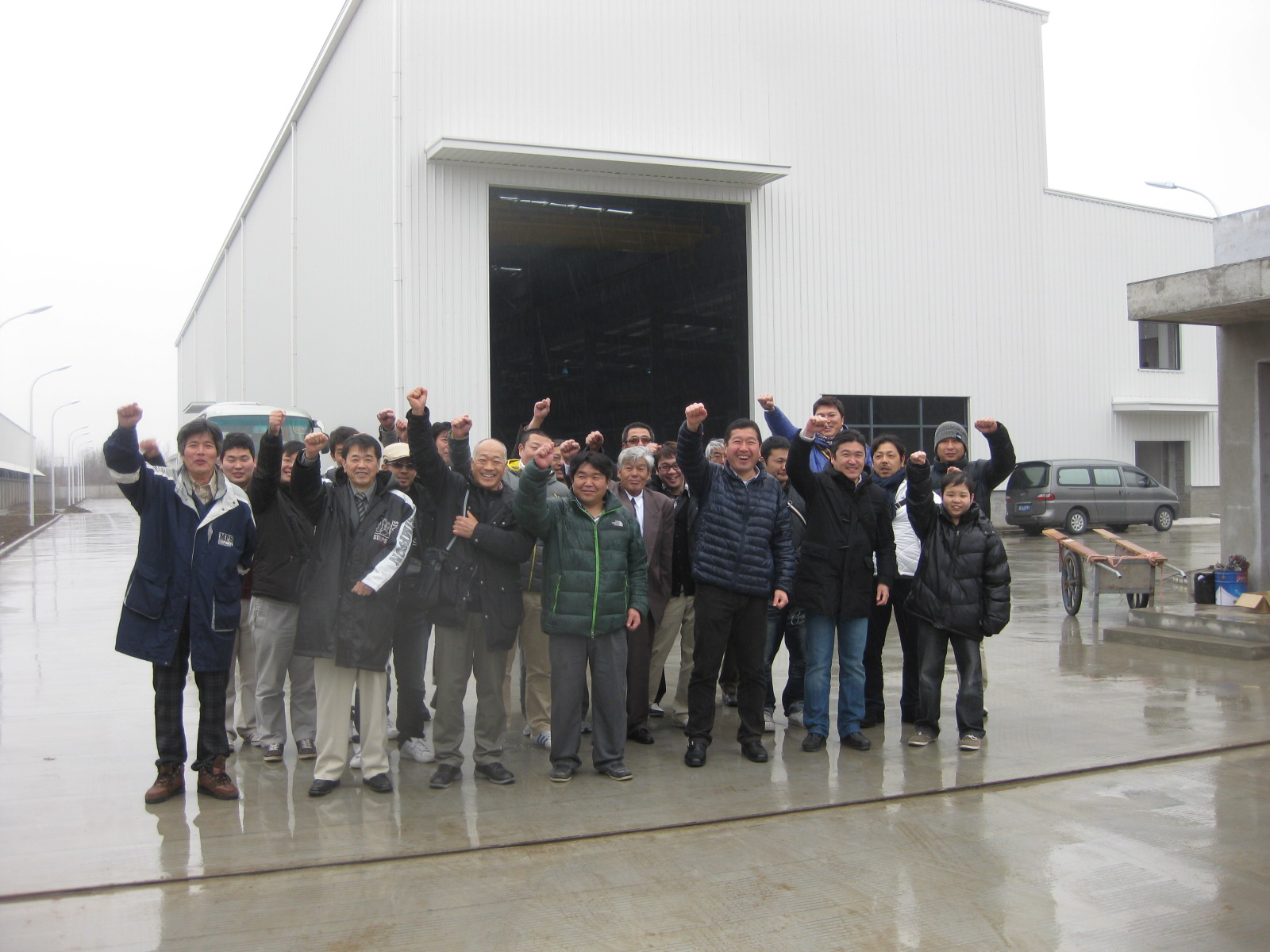 2014 NEW YEAR GREETING
"Yugong moved away mountains."
Let me start out by extending to you all my sincerest wishes for a wonderful and happy new year.
The 2013 fiscal year, fortunately we could attain our necessary proceeds.
Our heartfelt thanks are due to everybody related to KOTOBUKI. Also it's our great pleasure that Japanese food culture is registered as UNESCO world intangible cultural heritage as the company working in the concerning part of its industry.
By the way, at every year-end cleaning, when old letters or photos coming out, I am often apt to stop arrangement and be absorbed in watching them. I had a chance to watch the letter at my president inauguration from the customer with whom we have a longtime acquaintance from our founder's era. I would like to consider old Chinese proverb "Yugong moved away mountains." written in the letter. The meaning is like "Rome was not built in a day."
Once upon a time in China, there was Mr. Yugong. He could not endure inconvenience of obstructing mountains in front of his home. He and his descendants make efforts to move mountains away for the long period. I impressed our customer's advice on a heart again that keeping mind of establishment, honest, steady and indomitable will.
Now watching atmosphere of Japan, from expectation of economic recovery, I feel it getting better and changing to optimistic. (Of course, bright and prosperous society must be good.) But without being influenced by prosperous or not, fulfilling the shortage of company content, preparing for expecting risk or crisis, holding our vector steady, I think they are KOTOBUKI's conduct in this year.
From the beginning of year, I would not like to be straight-laced. But the company carrying on the business in mature society,
experienced political and economic ebb and flow, should show those behaviors.
The new year's day of 2014
Matsumoto Noriyuki
President, KOTOBUKI TECHREX, LTD.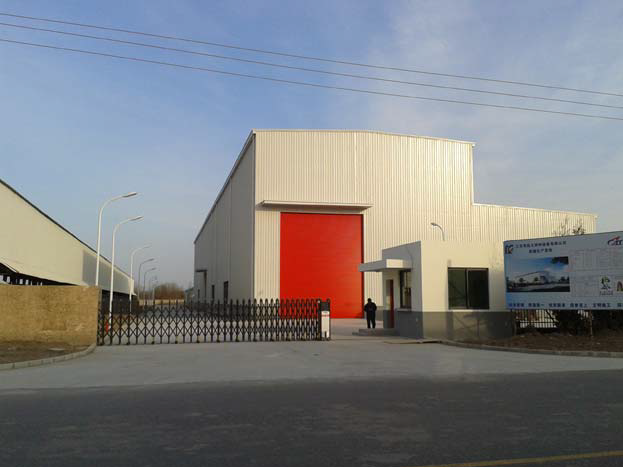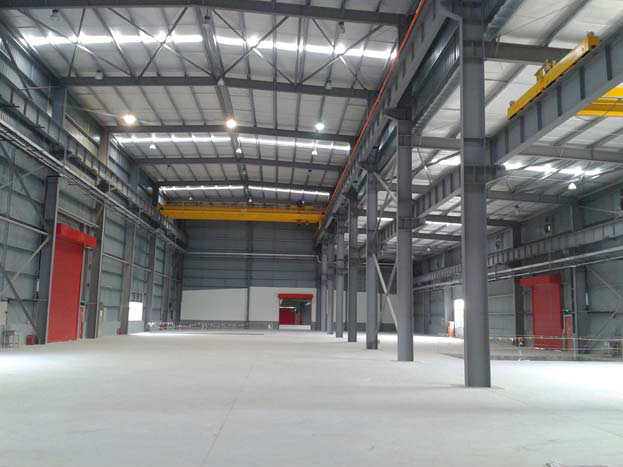 Now standing by for action, Factory of Jiangsu KOTOBUKI.
2014 Spring, it will start operation.
We are heartily looking forward to your visit.

The Chemical dairy published an article for introducing our heat exchanger re-tubing site work
2013 July
To maximize the performance of the customer's plant and equipment, maintenance site work is the vital part of our business.
During our customer's periodic maintenance and shut down maintenance, the heat exchangers which need urgent re-tubing maintenances are continuously carried into our factory after overhaul inspection in advance.
This is the moment to show our capability to complete with perfect result especially in the limited period of time.
Hereafter, with our maintenance techniques which are highly developed in Japan, we'd like to contribute to the industries in the glowing countries like China and other developing ASEAN nations, too.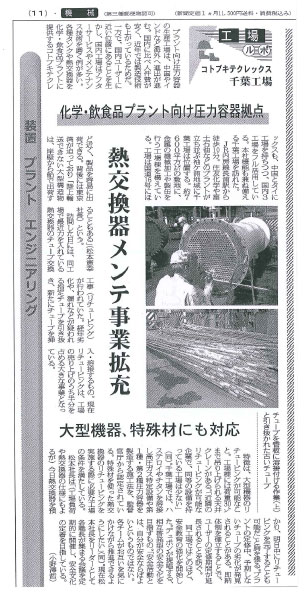 Our customer's opening ceremony for new factory in Ayutthaya Thailand
2013 July
We completed delivering the equipment which processed by collaboration with our Thailand, Japanese and Chinese workers. Today we're honor to be invited to their opening ceremony.
Through participating this project, we've gotten various experiences both for good and bad, moreover unexpected flood and restoration.
Our overseas expansions may seem to be much more than our actual ability. But we have confident about the development of human resources with highly skills to settle even unexpected situations. Additionally the employee's unity across the border is also one of our property.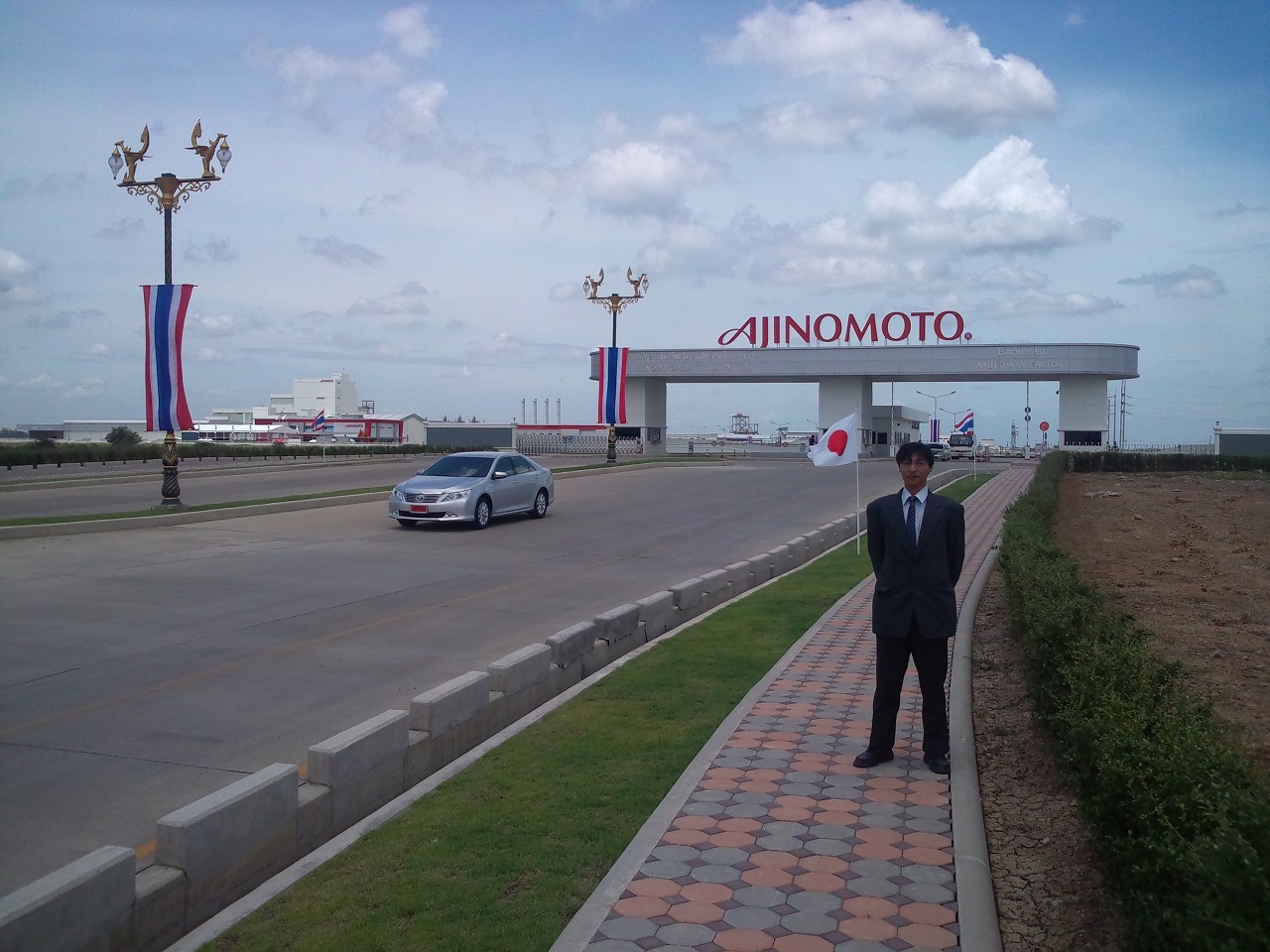 2013 NEW YEAR GREETING
Beyond ourselves.
Let me start out by extending to you all my sincerest wishes for a wonderful new year.
Looking back, last year was celebrating our 80th anniversary from foundation. Fortunately we could attain our annual goal successfully. We would like to heartily thank everybody related to KOTOBUKI who are our customers and users, our cooperative supplier sharing joys and sorrows and our staff sharing common destiny. On the other hand, it left unfinished improvement to next year because of some complaints and troubles.
2013 is the year of snake. Like growing up snake, we would like to break though old ourselves and be beyond old ourselves. First challenging in this year is setting up of our Chinese new factory in Haimen city, Jiangsu. New factory will take the place of our Shanghai factory. We are sure it will work as we expect.
But completing unfinished improvement is our urgent issue. As most developing enterprises have overcome the wall of old consciousness, we will be tested whether we can overcome it in this year.
Once the Buddha said "All things are in flux and nothing is permanent." Looking at the teachings from the standpoint of us, Yesterday's safety never warrant today's. Past success never guarantee this year. We intend to remain faithful to the teachings this year as well. We hope to receive your continued patronage in the future.
Matsumoto Noriyuki
President, KOTOBUKI TECHREX, LTD.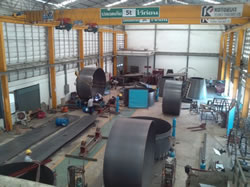 Ayutthaya factory

The Chemical Daily introduced our HIMAX Drain Separator
2012 August
Our original Drain Separator with highly separating performance was introduced on The Chemical Dairy.
Higher performance drain separator developed by KOTOBUKI's own technology. And we receive high evaluation in the field of petro・chemical plant, vessels and power generating plant.
Its matchless performance can separate 99% drain, 95% oil mist from air & gas and 98% drain from steam.
Mature products since developed, but still have had lots of demands to explore.
For your safe and trusted plant and equipment, we reinforce production and sales in overseas.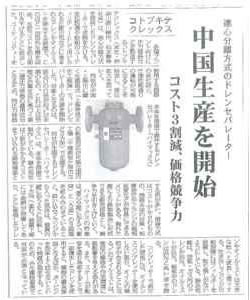 Continuous shipping from Ayutthaya factory in Thailand
2012 July
This picture is φ3500 stainless steel tank for domestic user in Thailand.
It is the biggest diameter tank that can be produced in this factory.
As you know, our factory is located inland. That means to have numerous transportation merit.
We will be very much looking forward to your order.
In Shanghai factory,
Because of the limited space, we can't produce as big as this size now.
But we're planning to construct new factory with the same production ability as Chiba and Yokkaichi factory in Japan.
Detail information is doing to be reported lately.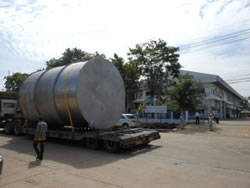 Go West
2012 June
Significant growing African economy.
We had several exports from Shanghai KOTOBUKI in the past.
Economic growth are all human's rights. The countries only to export primary products are now taking off for industrializing day by day.
For them, we do what little we can.
The picture shows the machinery waiting for shipment to Africa.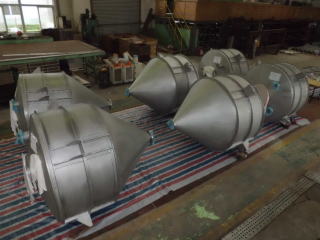 Impregnable castle, Ayutthaya factory revived
2012 May
On 8th of May, our Ayutthaya factory finally started running again, and today we have finished the first shipping after the devastating flood.
Although we had a hard time due to the damages from flood and incidental confusion, but we shall devote to put this factory on the path of sustainable growth.
In Hindi, the word of Ayutthaya means "impregnable castle".
Be true to its name, we shall overcome this unfavorable situation.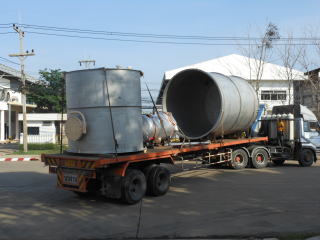 Temporary Thailand factory
2011 November
Located South of Suvarnabhumi International Airport, we start operating our temporary factory in Samut Prakan, Bangplee Industrial Estate.
Almost all of the employees gathered in the temporary factory.
And we swore that "There's no word like stagnation in our dictionary, we shall do our best for our customers waiting for the completion of products"
We are going to start operation in the original place by April, 2012 after confirmation of the industrial estate's flood disaster prevention.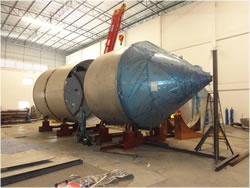 Temporary Thailand factory and support by Shanghai KOTOBUKI
2011 October
The uncompleted machineries due to the flood influence, Shanghai KOTOBUKI will take over and complete responsibly.
At the same time, we are preparing for the temporally factory in the area without flood effect.
The temporally factory is scheduled to operate at the beginning of November.
We will keep searching for the best production systems, even if difficult situation.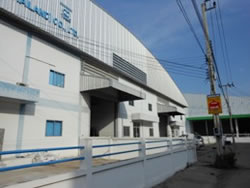 Confront Ayutthaya flood with smile, KOTOBUKI Thailand
2011 October
Concerning Ayutthaya flood, we really appreciate for your worries and supports.On October 4th, we were forced to evacuate from our Ayutthaya factory by the government order.But we have our customers waiting for our products. And we also have our employees.We have no time to make an excuse for unexpected disaster.
On October 17th, our corporative company at Samut sakhon southeast of Bangkok, kindly supported us to offer the place to start operating again.
In the past, we'd experienced the flood by the heavy rain storm hit our Yokkaichi factory in 1974. Therefore, we can resume Ayutthaya factory.
With these smiles, we can do anything to overcome!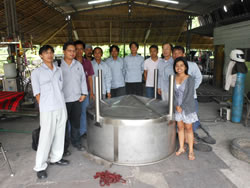 Fundamental techniques are based on the domestic factories in Japan
2011 September
Our news topics tend to promote our overseas factories, but KOTOBUKI techniques are definitely based on our domestic factories Chiba, Yokkaichi and Saga.
We can receive orders by overseas customers because of our accumulated techniques in Japan.At the viewpoint of globalization, Japanese production cost is much higher than other countries, but we must maintain our domestic bases by all means.
Simple, but keep producing and making good use of techniques. That is us KOTOBUKI.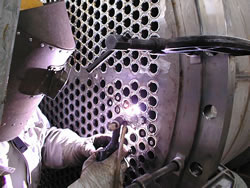 Strong Yen against weak Chinese Yuan
2011 September
Hardly imaging nowadays in Japan, the wages in China continuously raise up 10% every year since Shanghai KOTOBUKI starts operating. At the same time, it realizes these improvements - standards of employee's techniques, and qualities of the purchased materials like steel sheets and other machine parts.
In addition to that, the extremely high standard of strong Yen seems to offset the increase of wages for several years.
If you're thinking about procuring plants from China, there's no time like the present.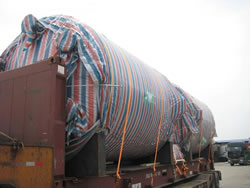 Food tanks for Japan were launching from China
2011 July
We started launching the food tanks for Japan and that was the biggest order per job in this year. We actually produced 13 tanks of 20~30KL in Shanghai KOTOBUKI.
The job was bigger than our capacity, so that we rent the factory next to us for supplement.
This year is the 8th anniversary for Shanghai KOTOBUKI.
We still continue to pursue good price, good quality, strict adherence to delivery time and good after sale –service to satisfy our Japanese customers.
Shanghai KOTOBUKI try hard to satisfy our customers!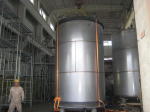 More than 6m-diameter-head plate was delivered to ASEAN religion.
2011 July
Our factories in Japan rarely have chance to fabricate more than 6m-diameter-tanks for these years.
Our close network.. Japan, China and Thailand made this job completed.
Our accumulated techniques in Japan succeed both in Shanghai and Ayutthaya factories.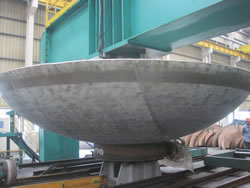 Employ engineers from Myanmar
2011 March
Now we have 3 engineers from Myanmar working in each place Chiba, Shanghai and Ayutthaya.
At this time, we'll employ 3 more to cover the expanding overseas demands.
While aggressive Chinese and Korean companies have been encroaching foreign markets rapidly, the Japanese market will be faced to shrink rapidly without developing overseas business.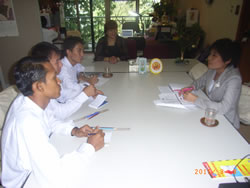 Last survey for the machinery for Thailand in Shanghai
2011 February
After Chinese New Year's Day on February 9~10th, we welcomed our user's surveyors to execute the last survey for the finished machinery for Thailand.
If the user in Thailand who has the exemption privileges for imported machinery, he can cut the costs by procuring in China more dramatically than in Thailand. (Not all the cases can be applied)
We propose the most beneficial condition for customers by comparing and examining our producing costs in 3 factories in Japan, China and Thailand.